Welcome to Alabama Randonneurs!
Welcome to the Alabama Randonneurs (RUSA). We are supported by the Montgomery Bicycle Club, but our rides are seperate and membership in RUSA is seperate from MBC. You may be a member of just RUSA or both clubs to ride with us. RUSA membership is required. In order to register for an Alabama Randonneur ride, you must be an active RUSA member. Please register/renew with RUSA.org at least 24 hours prior to attempting to register at Alabama Randonneurs. The temporary registration numbers initially generated by RUSA are not valid for registration at Alabama Randonneurs. Once you have your permanent RUSA # then registration at Alabama Randonneurs is possible. There is no fee for registering on this webpage as an Alabama Randonneur.
I am quite excited about the 2022 Randonneur calendar for the state of Alabama. Below is a PNG that serves as a concise listing of all the rides currently on the Alabama Randonneur calendar plus a few more 100K's that we may add if there is additional interest in riding those. If anyone is up for a really stout challenge this year, I have listed two 1200K's and a SR600K that I am looking at riding. Would love to have some company if you feel up to the challenge. Register for any of these rides @https://bamarando.ridestats.bike/stats/pages/myClub.xhtml or message Alabama Randonneurs on Facebook or Chris Argo on Facebook or email Chris Argo @ chris-argo@bethel.edu for additional information. If you are looking for additional rides in neighboring RUSA regions, please check out Georgia's Rando Site Audax Atlanta, Tennesee's Rando Route Harpeth Bike Club Ultra-Cycling and Randonneurs USA's national schedule Searchable 2022 Rides.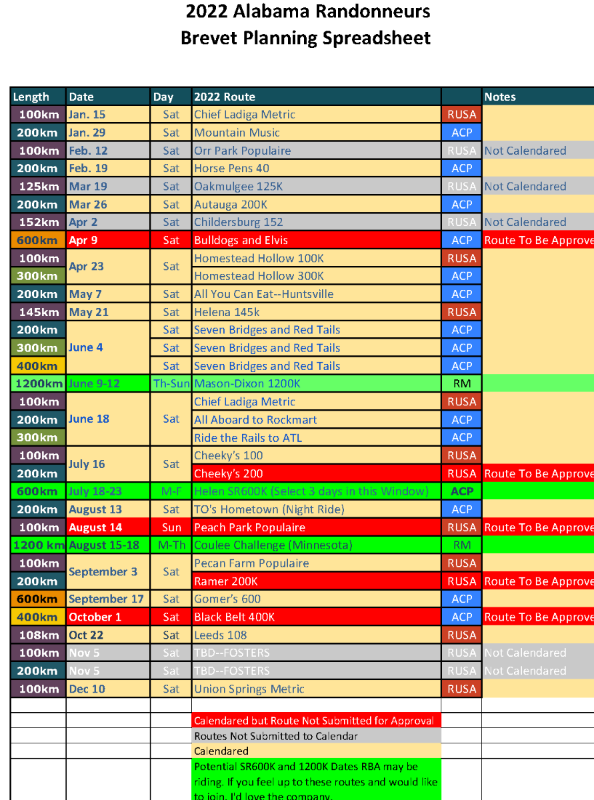 Out of an abundance of caution, Alabama Randonneurs will continue to adhere to the Covid19 pandemic policy that was adopted and implemented in 2020. Please see below for details.
Effective immediately and until further notice, the following pandemic safe riding procedure will be observed for all bicycle rides of RUSA administered by the AL-BHM region, also known informally as the "Alabama Randonneurs." The policy may be rescinded at such time as the pandemic is declared to be over by cognizant authorities who may lift general public safety restrictions at that time.
1.) All guidance and requirements of duly appointed civil authorities will be followed. The RBA will update guidance to the riders as these requirements are imposed, modified, or relieved by the authorities based on current pandemic conditions.
2.) Events will be limited in ridership to the number of persons allowed at an outdoor event by authorities. Currently, that number is 10. Should more than 10 riders apply, starting times will be staggered by one hour for separate groups of 10 or less. Riders will not start any event if they have a fever, are coughing or otherwise feel unwell. The RBA may send any rider home who appears to be ill. Events will use routes that are entirely within the state of Alabama, since requirements of neighbor states may vary based on pandemic conditions there. Some states require quarantine for travelers from outside the state as well.
3.) Events will start/end at venues with sufficient parking space to allow cyclists all of whom are required to park in alternating spaces, or greater apart. Face coverings will be carried by all riders and worn as a minimum: when preparing/stowing gear in the parking lot, when entering any public enclosed space such as a restroom or store, or any other location where other individuals may be stopped, resting, etc. Face covering will be a pre-ride check item along with other RUSA mandated items such as lights and reflective gear. Face covering will comply with legal requirements in effect at the time of the event.
4.) Drafting other cyclists while riding is not permitted. Riders shall maintain a distance of one bicycle length for every 3 mph of pace or fraction thereof as a minimum.(+/- 25' at 15 mph for example based on a typical bike). Passing other riders shall be done with a minimum of 6' of lateral space. Blowing one's nose ("snot rockets"), or spitting while riding is prohibited. Stop and use a cloth or tissue for this purpose if/when needed. cough into the crook of one's elbow if needed. Take any other reasonable measures to control the distribution of droplets containing any pathogen from your respiratory system into the air that other riders may be breathing.
5.) Riders will report observed violators of this policy to the RBA for follow-up. Violators will be warned by the RBA. A 2nd offense may result in exclusion from AL RUSA events during the pandemic.
6.) Riders will register online at http://www.bamarando.ridestats.bike. Registration requires payment online. No cash will be accepted at the ride. A check may be presented which will be handled later with gloves for processing. Riders will download and sign the waiver and bring to the ride start where they will deposit in an envelope provided. Waivers will remain in the envelope until no longer needed and then thrown out. Cue sheets will be downloaded and printed out by the riders.
7.) Proof of Passage Each rider will be responsible for providing proof of passage in the form of a signature and time and photo of the control that they may enter themselves, or the answering of an info control. A gps track link can also be submitted as EPP in lieu of paper to avoid passing of germs.
8.) DNF: As is our policy If the rider decides to abandon it will be up to the rider to notify the organizer of their intention then secure their own way back to the start.